Introduction
Last week I was reading up on the so called Heart Bleed bug when I came across a completely unrelated reference to the 'The International Obfuscated C Code Contest'.
Started in 1984, this contest seeks to find amusing and clever ways to exploit the C language and related systems, and more importunity, to wrap these exploits and oddities in the most obfuscated manner possible.
I decided to try my hand at decoding one of the entries, randomly picking this entry from 1995:
http://www.ioccc.org/years.html#1995_heathbar
We'll learn some cool tricks in a minute, but the point of this post is somewhat broader: it's that the C languages afford so many ways to create bad code that it's almost tragic. Heart Bleed, in my opinion, is the classic example of a developer who's literally too smart for there own good, and ends up abusing the language to create some truly stupendous bugs. The code used in the IOCCC competition is a prime example of this power gone bad -- very bad. We'll get back to this point at the end, but first, let's see if we can't learn a little something about bizarre C code.
So the code in this submission, like most others, starts as an amusing glob of nonsense, and must be decoded to be understood.
I should note one of the key factors in this contest is entries are size limited, ensuring the complexity comes not from overly long blocks of code.
And so while we start with this: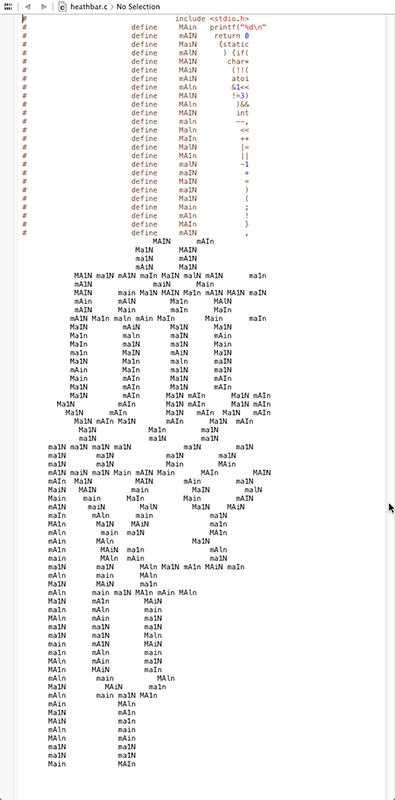 A dollop of basic indentation and renaming provides a rather manageable: